Description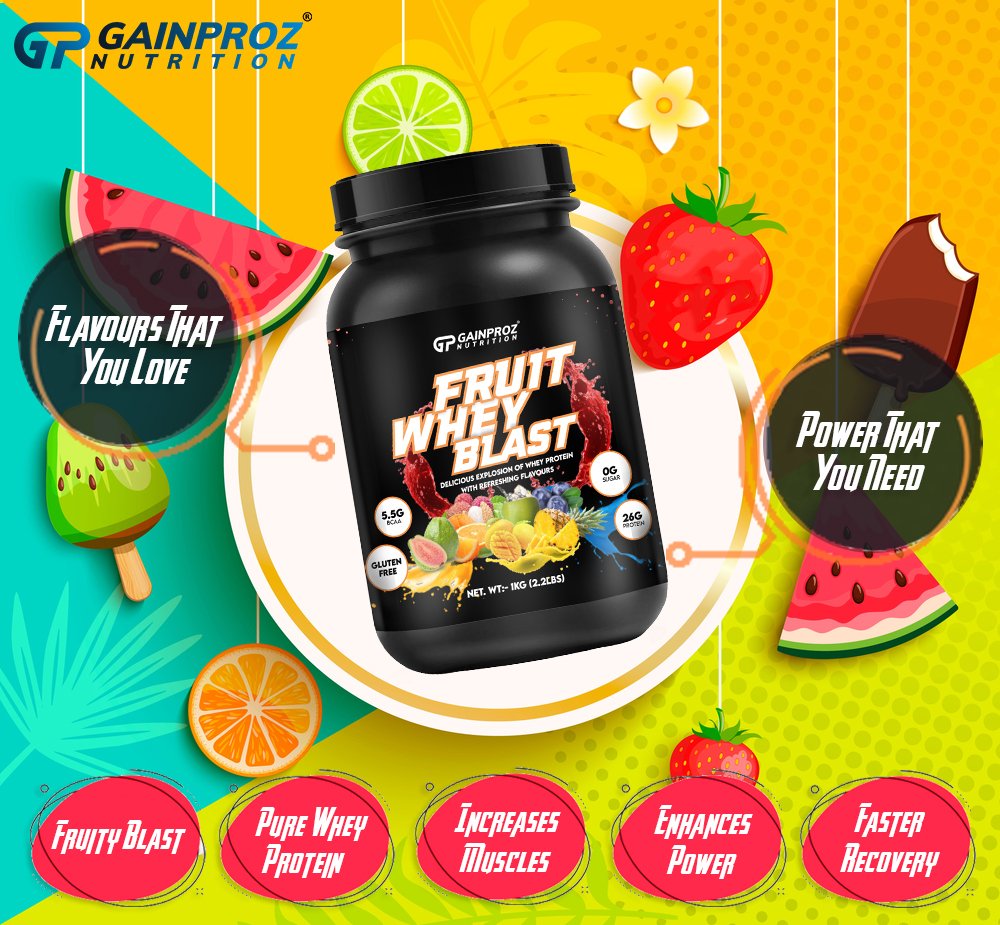 About this item
Revolutionary Fruity Whey: A delicious and powerful fruit twist to your regular whey protein

Best made even better: world-class formulation of 26g protein from hydrolysed and isolate whey protein matrix along with 15g essential amino acids, 6g glutamine, 5.5g BCAAs and 0g sugar per serving

Lifestyle Whey: A unisexual whey protein that not only helps fitness enthusiasts in building physique but also acts as a delicious & healthy meal replacement for all – students, office bearers and bodybuilders

Body Building: Fruity Whey contains a fast-absorbing whey protein matrix that helps build lean muscles, supports post-workout muscle recovery and preparing for tough workouts. Post-workout, between meals, as a snack, or as a treat, it doesn't matter – Fruity Whey is formulated to be your any time of day protein powder

Next-Gen: Well researched new age protein formulation which fulfils your daily protein needs, supports your diets and fitness routines. Keto-friendly, sports safe, gluten-free and no added soy
Ingredients:
Whey Protein Concentrate, Whey Protein Isolate, Hydrolysed Whey Protein. Whey Powder Nature Identical Flavors, Citric Acid. Malic Acid, Sucralose (INS 955) and Preservative (E211). ALLERGENS Contains Milk.
Directions:
Mix 1 serving (1 scoop) in 300 ml of water in a shaker cup.
Product description
Scientifically engineered Fruity Whey!! Looking for a refreshing new protein drink? Let us face it. It takes a lot of courage to give your best in these months. Working out in the hot, sweltering summer heat is no joke- and it gets even harder when you cannot even hit the gym if you wanted to. The grime and sweat get multiplied even if the reps don't! Summers are also notorious for killing hunger, making it easy to go back into our air-conditioned comfort zone. And in such a scenario, regular protein shakes may seem too heavy to drink. A lot of gym-goers suffer loss of bulk because they just can't stomach the thick shakes due to the heat. What we crave for in these hot, sunny days is something refreshing. But is there a refreshing way to maintain gains? Now, for the first time ever, you can get both, nutrition and refreshment, with our one of its kind formulas! At Gain Proz, we have been consistently innovating to get just the right combinations of supplements for you and we don't stop at just the nutrients-taste is a very important aspect of nutrition. If it does not taste right, you are less likely to stick to it! And what is healthy living if you cannot maintain the good habits you pick up? So, to make your fitness easier, especially when you need a feeling of freshness, we have introduced FRUITY WHEY! FRUITY WHEY is a refreshingly delicious juicy whey protein supplement available in 10 fruit flavours. Not just for summer days, the juicy, fruity flavour will make this your go-to protein in all seasons! Start your morning with a fruity kick that keeps you feeling light and refreshed all day long. FRUITY WHEY is a new refreshing, sugar free protein powder that supports low carb, keto and high protein diets while containing no artificial flavours. FRUITY WHEY adds a crisp, light-tasting, and thirst-quenching quality to traditional protein powder.